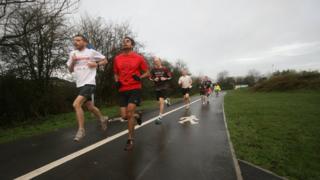 More than 35,000 people have signed a petition against council plans to charge for a Parkrun event in Bristol.
Stoke Gifford Parish Council voted to become the first in the world to charge Parkrun a fee for use of its grounds.
Hundreds take part in two free, timed runs organised by Parkrun UK in Little Stoke Park on Saturdays.
Organisers said it meant the end of the Little Stoke event, while the council said it had received more than 1,000 critical emails after the vote.
More on this story and others from Bristol
At Tuesday's meeting, councillors claimed it was "unfair" to expect non-running residents to pay for the upkeep of paths, and voted six to four in favour of charges for "wear and tear".
The local Labour group called it a "mean-spirited decision" by the parish council, describing the levy as a "health tax".
The decision has been met with strong criticism online, with double Olympic champion Dame Kelly Holmes tweeting: "Have I missed the whole reason park runs exist and are free? Parish council decision is a disgrace."
While marathon runner Paula Radcliffe tweeted she was "totally against this decision" and sports minister Tracey Crouch described the decision as "contrary to government sports strategy" and creating a "barrier to participation".
TV personality Ben Fogle also tweeted that runners were "welcome to use my garden for free (you may get dizzy)".
And former Olympic athlete and sports presenter Iwan Thomas told the BBC it was a "real shame" because Parkrun "encourages fitness".
A petition against the decision has attracted more than 35,000 names and got the backing of the London Marathon, which said it would "stand behind" Parkrun as "free to all".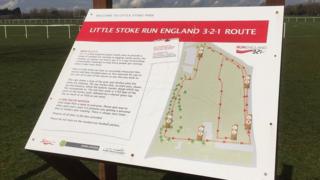 Parish council chairman Ernie Brown said he "fully understands the upset" but it is not about "trying to charge people for running".
"Since last night I've had 500 emails – I can't say what they say – but they are slanderous and they're aggressive. It's just not acceptable," he said.
"The football club, they pay 60 for the hire of the pitch.
"We're not proposing to charge 60 but at the same time as an organisation they should contribute towards the upkeep."
But event co-director Becky Bushnell said: "We feel the community benefits far outweigh any kind of charge required for use of the park."
The parish council has given Parkrun until 28 May to apply for a community grant to cover its contributions towards park maintenance.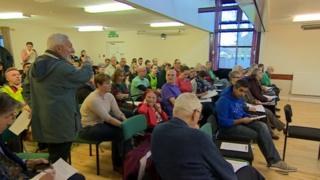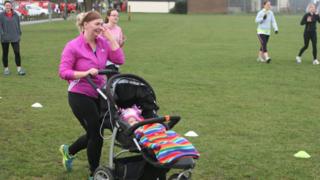 Parkrun's ethos is for the event to be free and open to everyone.
It stages 850 runs in 12 countries and organisers warned before the vote the event in Little Stoke, south Gloucestershire, would end if a charge was imposed.
The weekly event has attracted 4,083 registered runners since its launch in 2012.
Source: http://www.bbc.co.uk/news/uk-england-bristol-36032842